Pets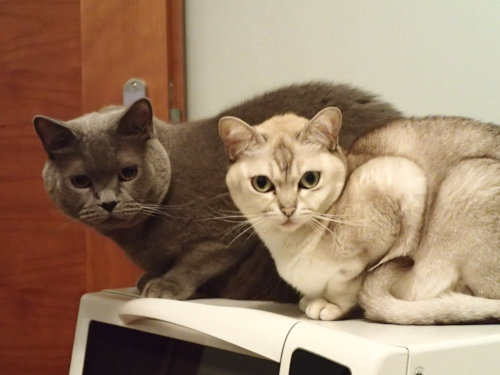 Ally Miloe Fiskardo, CZ
GIC Tamiko Tauri Cvirn, CZ
Bruce DCKNSN Blue Alchemist, CZ
Pets are our neutered cats, for whom this designation is more appropriate and characteristic for us. Especially Arčík is strictly allergic on the label of a neutered guy or even the castrate.
Elinka came to us less than three years after Arčík. The pedigree was a matter of course for us and the future of a pet was also waiting for Elinka. So when Elinka was one year old, we let her castrated, exactly as agreed with her breeder. It would never have occurred to us to disregard what we promised and what we were committed to.
Elik is our beige loony cat. She is a very nice cat, who would like to lick us from morning till evening. She loves the warmth and the sun that she can heat up indefinitely. She is purring almost constantly, her jumps to our belly, curl up on our lap or chest and cuddly head strikes are famous. She is more impulsive than the blue ones and she often acts before thinking. She loves all kinds of toys, which she also retrieves and she is a perfect artist. After years of observation, we came to the conclusion that she seems considering our humour as a foolish one. Whenever we make fun of her, she throws to us her hard-to-describe look, after which we would like to apologize to her for our inappropriate and undignified behaviour.
Tamiko is an incredibly tender, cute and playful cat. She has a nice, relaxed and social character. She is a blue unguided missile that loves toys. If she wants to play, she will lead us to a drawer where some of the toys are kept safe from unwanted paws so that she can choose the right one between them. Tami communicates with us with a gentle chirping, a short or longer meowing or a higher meowing when she claims something good to eat or in response to our call. However, she still maintains the famous Chartreux gentle sound of her voice and discreetness of expression. She doesn't spoil any fun and she likes to hide and seek. Sometimes when we play with her, we must change and take a rest time because her energy sources seem inexhaustible, unlike ours.